August 25th, 2014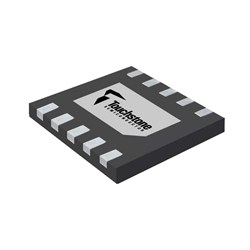 Milpitas, CA (PRWEB) July 31, 2013
Touchstone Semiconductor, a leading developer of high-performance, low-power analog integrated circuit solutions, today announced the TS3310 dual output boost regulator. The TS3310 consumes only 150nA of supply current. Boost regulators are traditionally the highest current consumer in a system during sleep modes. The TS3310 removes this major constraint in power budgeting and enables years of battery life from a tiny battery cell.
The TS3310 has an always-on output and an instant-on output. The always-on output is ideal for powering a microcontroller, enabling long battery life by minimizing battery drain during sleep mode. The instant-on output is ideal for powering a short-burst load, such as a Zigbee or Bluetooth radio.
The TS3310 operates from supply voltages as low as 0.9V up to 3.6V and can deliver at least 50mA of continuous output current. The TS3310 is ideally suited to be powered from a wide variety of power sources including tiny button cells, single or multiple-cell alkaline cells or single Li-chemistry batteries. The boost regulators output voltage range can be user-set from 1.8V to 5V to power a wide range of microcontrollers, low-power analog circuits and radio burst loads simultaneously. The TS3310 can also charge up a buffer capacitor to provide large burst currents to high power radios or other peripherals, even from tiny coin cell batteries. The TS3310 recharges the capacitor in a controlled fashion to prevent excessive current draw from the battery.
The TS3310 also addresses the problem of leaky peripherals. The instant-on output features a load switch that allows users to pull the plug on a peripheral that draws unwanted current when it should be off. For example, a radio peripheral that draws 10