July 25th, 2014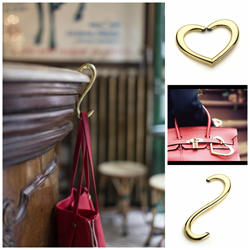 Charlotte, NC (PRWEB) July 07, 2014
The Hookup, a stylish solution to one of the daily worries of every woman, will launch a crowdfunding campaign on the popular crowdfunding site Kickstarter today. Developed by New York designer, Farvardin Fathi, The Hookup is an intricately engineered tool which keeps handbags off the ground, protecting them from theft and damage. Fathi was inspired to design The Hookup when her sisters Hermes Birkin bag was stolen from a busy cafe.
The stylish design of The Hookup makes it a valuable accessory for every woman. The Hookup can be ordered in 14 or 22K gold, platinum or black pearl finishes, and folds into an iconic heart shape. The design is delicate and lightweight, but will hold up to 33 pounds of weight when unfolded into its S-shaped hook. The patented design of The Hookup allows it to attach to almost any surfacedoors, bars, tables, chairs, and desks.
Besides the molding process, the Hookup is entirely handcrafted. It is hand-polished with three wheels, and uses 16 aluminum-alloy parts. While weighing only 1.4 oz, the high-grade, thick plating gives it a durability of more than 10 years.
Those interested in funding The Hookup can do so on Kickstarter beginning today. Contributors to the campaign will receive perks ranging from Balmain keychains to a complete Hookup collection in every available finish. An early bird contribution of